Why not visit us in true style by flying in for a visit.
Aircraft flying into Little Snoring visiting TLAC for Sales or maintenance will not incur landing or parking fee's.
Airfield Information
By Air: refer to your up to date airfield guide for runway details. Circuits are left hand, 800 feet. Avoid over flying local villages, use runways 07/25 whenever possible with 10/28 used only if necessary. Little Snoring Airfield is in a farming environment keep a good look out for farm traffics and activities. Little Snoring Airfield in uncontrolled and PPR is not required all aircraft visit entirely at their own risk, please do not contact the airfield owner.
If approaching from the west call Marham Zone on 124.150, alternatively if approaching from the South or East contact Norwich Radar on 119.355. Once you have the airfield in sight, make blind calls to Little Snoring Radio on 118.130 to report your position and intentions.
N52 51.65 E000 54.57
2 nm NE of Fakenham
196 ft AMSL
View the airfield Pooleys Plate
Area avoidance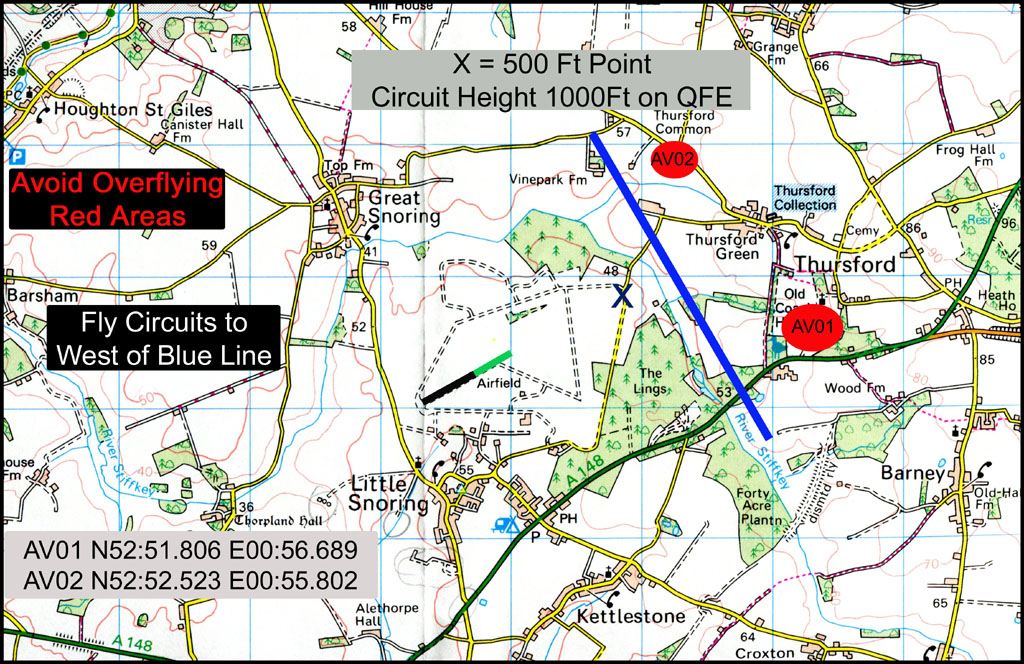 TLAC Aircraft parking is the mown grass area beyond the last silver Arch hangar, when visiting TLAC there are no landing fees, we do however charge for overnight parking or long stays, please contact us by phone or e mail for more information.
Frequencies
The Little Snoring frequency is 118.130 please use like a US Unicom announcing who you are and what your intentions are. If arriving from the West contact Marham on 124.15, if arriving from the South or East then contact Norwich Radar on 119.355.
Waypoint N52 51.65 E000 54.57 196ft AMSL
Before heading off make sure to check the latest and most up to date weather forecasts for Little Snoring Airfield
Visiting by car
The Light Aircraft Company Ltd
Hanger 4 Little Snoring Airfield
Little Snoring
Norfolk
NR21 0JL
These directions from Fakenham on the A148 towards Cromer.
After leaving Fakenham and after approx. 2 miles, look out for this speed camera – get ready to turn left.
Take the first left turn after the speed camera.
Enter and drive through the village (30mph) until you see this bus shelter/village sign, turn right up the incline
Continue onto a sweeping right hand bend, a small lane will appear as the first turn on the left, Bull Close Lane, take that turn.
Follow the road which has a few twists and turns and shortly you will approach the runway, make sure there are no departing or arriving aircraft and turn right
TLAC is the first series of hangars on the right hand side.